I like the simplicity of view and usage of the real-estate for the ED Tracking Board, versus some of the other EHRs out there like FirstNet – Cerner. The real estate doesn't seem cluttered and more intuitive to me.
ED Tracking Board
Allscripts has a Workflow Management Tool where each step in the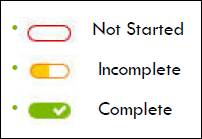 Workflow is announced visually by color and shape of Icons.
This tool does not stop the flow but instead supports the clinician in the Workflow.
This tool displays the name identifying the Document status

Check incomplete documents status

More examples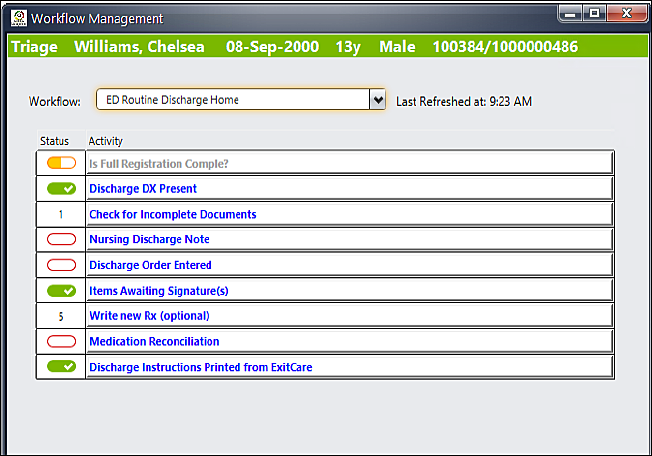 One of the key areas of optimizations that we uncovered in our review was in the area of revenue. Early on in the full life cycle we made the decision to go with ED Sunrise. In that choice was the promises of increased revenue and help with inconsistent billing due to multiple factors, and aging receivables. Our ED revenue was 30% below budget and needed to see an increase. In 2011, the ED revenue was $600,000 higher than 2012 revenue with 2013 tracking along the same path of 2012. One of the first directions we took was to identify factors that impacted our charge capture, thus revenue. We prioritized the factors and determined levels of impact that we could exert on those factors. Our desired outcome was to increase the ED revenue/charge capture by 30% by the end of 2013.  Allscripts has helped us meet those goals. I have heard all the top EHR vendors claim the same results, and I believe they all can produce the same results as many factors in the past were never addressed and thus hidden. I do like Allscripts for openness to dialog, openness in training as well as clinical support. I do want to add that sometimes simple is not the best way to travel for the end results needed.
I have had many questions and I have found the answers on the Allscripts portal or have been able to ask in one of their groups. I like especially their Meaningful Use Audit Group where all resources are listed including abbreviations, numbers and how to for Allscripts, Legal information, how to request letters from Allscripts and how to manage an audit. Not much can be done if you are chosen, but you as an organization can be proactive if you find yourself in an audit. Knowing things like how long to hang onto files after the conclusion of an EHR incentive Program can cut a lot of adding more stress, when you really don't need it. Don't skimp here in the shadows for an ounce of preparation will save you in the end. The time of the audit is not the time to scramble for screenshots of key functionalities. Don't count on Dave your design/builder to be around forever, things happen and so make sure he is documenting and that he has copies of vital reports/documents.  We had a valued IT person who designed/built everything for us. He was a know it all, the go to of all. No one knew that he didn't document as he should have till he left. Then the realization of problems grew. A startled revelation of where we were in reality was the start of a nightmare.  Stay on top of your EDIS team and make sure it gets drilled down the ranks to prepare for an audit each step of the way. I can't say enough that Allscripts makes these tools available to its clients and easy to locate. Hind sight notation is starting from day one to incorporate Meaningful Use (MU) and its requirements. Not all EHRs are the same especially in support of Meaningful Use.
I'd rate Allscripts at 4.8 out of 5 for EHRs.