We needed an EHR system that would drive change as well as organizational redesign. We needed a system that plays a critical role in safety initiatives that were found in CPOE – Cerner. Cerner Millennium architecture provided a comprehensive EMR that was connected bringing up decreased times from medication order to meds cabinet access, significantly. Transformation grew out of that adhesiveness thus driving safety and efficiency with significant improvements. I no longer have to wait for someone else and now have more control.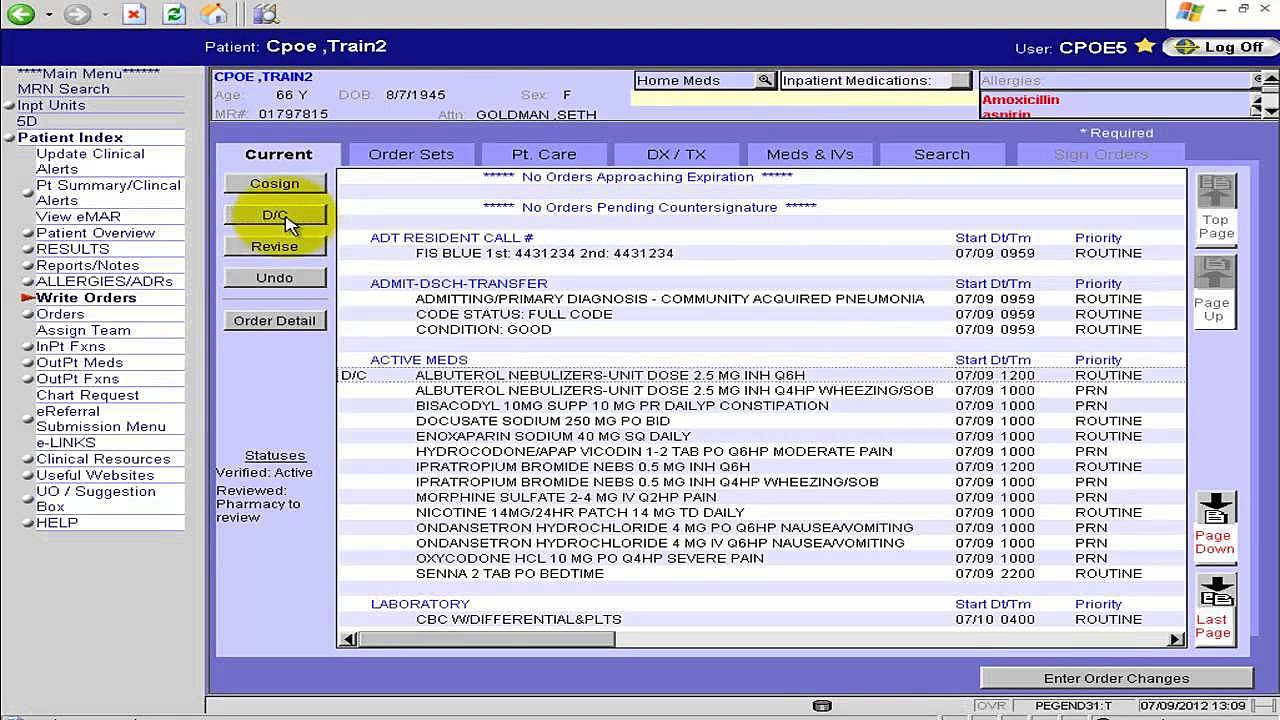 The wielding benefit of order entry is found in integrated care where nurses, physicians and pharmacists all see the same information. If you do not have that, that is where the risk comes in and patient safety fails. You see this more in Hybrids than in software like what Cerner offers.
Reliability is another plus I've experienced with CPOE – Cerner. When an order is placed for a Chest XR, I can trust that it will be received and completed by radiology. Through transformed workflows and these new tools, we have found improvement. We have seen efficiency in our workflows presently taking on these changes, then how we used to do things. With the staffing, we were able to reduce our HUCs by half and then the remaining HUCs the focus is now more customer-centric.  Nurses used to complete charts at the end of the shift, and now it is mostly being done closer to the actual delivery of care. We found a reduction in elapsed time between dictation and physician signatures as well as a reduction from code to bill time.
Within CPOE, the order sets have improved patient safety. With real time documentation, you cannot help improvements with JCHO standards and advanced directives.  In the ED so many times, the allergies were never documented and now with hard stops, it is always being completed. Patients were getting missed for isolation sometimes for almost a week, and now the required patients are placed in isolation immediately. CPOE presents the right information at the right time for patient care and safety. More times than I'd like to admit CXRs were ordered with no reason. Now we place the orders and document at the same time thus increasing insurance collection with less time in research by support staff or denial. Advance directives compliance has improved with the entering of height, weight and allergy documentation. This just gives everyone the needed information for the most effective decisions and care available.
In the ED, we are totally CPOE, and we were able to replace the old grease board with large plasma monitors that give you an instant integrated view of the ED. If you see Child Life signed in with a suture nurse you know that support is taking place and Child Life will be tied up for the awhile. Lobby management is no longer a guess; you will know what it out there. Triage can see what beds are open. If a patient is in radiology and no longer in their room, we do not spend time looking and asking where the patient is. We can see at a glance if labs are back or how many are still out. We found communication of bed availability saved valuable time, enabling continuity of care from the ED to inpatient. CPOE effectively reduces drug-related injuries and adverse drug events, as well. We saw a reduction in preventable ADEs after the implementation of CPOE.
In summary, we have seen almost a 100% change in compliance driving safety and efficiency with significant improvements all the way around our health system. Cerner CPOE was the best investment.