Choosing The Best EMR System
I found a good definition of an EMR on the ONC website to set the context:
"An EMR (electronic medical record) is a real-time patient health record with access to evidence-based decision support tools that can be used to aid clinicians in decision making. The EMR can automate and streamline a clinician's workflow, ensuring that all clinical information is communicated. It can also prevent delays in response that result in gaps in care. The EMR can also support the collection of data for uses other than clinical care, such as billing, quality management, outcome reporting, and public health disease surveillance and reporting."
According to a scientific study, physicians who use EMR's adopted a more active role in clarifying information, encouraging questions, and ensuring completeness at the end of a visit. A trend suggested that physicians who use EMR's might be less active than other physicians in three somewhat more patient-centered areas (outlining the patient's agenda, exploring psychosocial/ emotional issues, discussing how health problems affect a patient's life). Physicians in both groups tended to direct their attention to the patient record during the initial portion of the encounter. The relatively fixed position of the computer limited the extent to which EMR physicians could physically orient themselves toward the patient. Although there was no statistically significant difference between the EMR and control physicians in terms of mean time across all visits, a difference did emerge for initial visits: Initial visits with EMR physicians took an average of 37.5 percent longer than those with control physicians.
EMR/EHR Implementation Factors
1. Interoperability:  Allowing EMR's to integrate with other systems.
2.  User Experience:  How user friendly is the EMR for the clinical staff.
3.  MU:  Does the EMR qualify for Meaningful Use
4.  Patient Engagement:  Does the EMR have a true patient engagement experience and portal.  A real portal that allows bi-directional data exchange.
5.  Mobility:  Can the EMR be accessed via mobile device and tablet?
6. Security & Technical Protection:  EMR's must adhere to the principles governed under HIPAA at a minimum and meet other security standards such as HITECH and optimally your hosting should meet SAS70.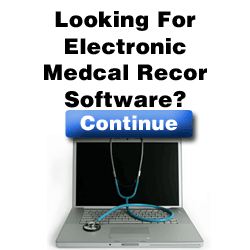 7.  Server or SaaS:  Do you have the infrastructure to support a server/hosted EMR or would it make more sense to leverage a SaaS EMR like Practice Fusion?  Server models are sometimes preferred but you have to remember their are associated hosting costs, up-keep, and liability for hosting HIPAA PHI.
8.  Use a product comparison matrix (hence the website EMR Matrix) to compare objectively.
These are a few good questions to ask.  If you need help, fill out our EMR Wizard form below to get guidance based upon your specific practice size.
EMR Finder
Let us help you find the best EMR.  Simply use our wizard (it's a quick survey) to help identify the best EMR for your organization.  After the wizard you will get a free buyers guide on EMR software.