Meditouch EHR has come up with a product which will meet the government guidelines with ease.  This tool is not only tested and tried, but has the option of adding an Ipad for providers to use while staying on top of patient information and systems checks.   Although, most costly than some a comparative study may find the extra is what will be the outlay in other areas, such as loss time due to training and support or security.
Meeting all of the desired qualities for the scrutiny is a major step and Meditouch has made that step. This is a web based system and is completely maintained by Healthfusion, Inc.  The cost is one price for the service, education for use and maintaining the system.  The system is set up to accommodate the Apple Ipad as its touch screen mechanism.  There is access from any sign-in point (meaning the files can be accessed from home, hospital, while on vacation and so on) also placing the security hat squarely on Healthfusion, Inc.  Tech support is also handled by Healthfusion,Inc. which is domestically housed. This system is certified by an ONC-ATCB, which means 'meaningful use' criteria has been met for ARRA funding. This system is also HAPPA compliant, as well as Medicare approved for stimulus funds.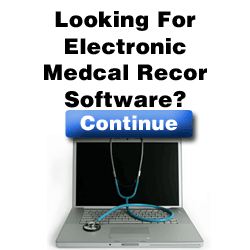 Prescription interface is only one of the points necessary for meeting the 2014 deadline and Meditouch is holding a Surescript Award (2012) putting it in the top 20 percent of all EMRs.  Another positive move for Meditouch in 2012 was a partnership with American Podiatric Medical Association (APMA).  Moving forward with the EMR plan, and developing a system of working medical records and billings and portability; Podiatrist now have the ability to build files for their patient's including pictures of their feet or ankles, by using the tablet or phone.  Taking this one step further Healthfusion, Inc. developed Medidraw which allows the physician to write or draw right on the photos and x-rays to accentuate the issue.
Post your MEDITOUCH review here: