Dr. Chrono has sparked some of the BEST debate on EMR Matrix.  That being said, we want to drive some data on this rating from clinicians since that is what EMR Matrix is all about, clinicians providing their input.
We are initiating a new polling technique on the site to crowdsource ratings much quicker using quick polls.
We want your feedback on Dr. Chrono so please vote here:
Update -14 May 2013
Since this review, users have been posting negative experiences with Dr. Chrono from a support perspective.  This has caused a decrease in the scoring.  EMR Matrix will be reaching out to Dr. Chrono to see whats up with the support issues and hopefully help them regain their top tier ranking.  This is what EMR Matrix is all about.  Thanks users!
First Glance
Dr. Chrono is a relatively new player in the EMR space and has taken a very unique/cool approach to EMR's its totally mobile.  This native iPad EMR has a slick and easy to use user interface that is very quick to learn.  The UX is very Mac like (which I love) and focuses on a nice, clean and organized experience.
The pricing model is very nice and follows the "freemium" approach.  You can download the free version for basic features and graduate up the pay scale to $399 per month per provider for the premium (Apollo) version.
Interoperability
As many people know, this is a sensitive spot for me.  I really think ALL EMR's should offer robust interoperability options for their clients in the form of modern API's, web services, federated identification, etc.   Dr. Chrono shines in this area.   They offer a nice API both in Python and RESTful web services…but its more than just nice, it rocks.   Unlike an Epic, they WANT developers to build onto their platform and innovate upon their API and guess what?  It wont cost you $150,000!
Features (Free through Premium aka Freemium)
Meaningful Use Certified
Check-in
Custom Clinical Forms
iPad Clinical Photos & Videos
eRx e-Prescribing
Payments with Square
Template building by drchrono
Insurance Eligibility Checks
Incoming / Outgoing Fax
FreeDraw
Text & Phone Reminders
Supports Practice Groups
Demographics Upload
Medical Speech-to-Text M*Modal
Quest Labs Realtime Integration
3rd-Party Lab Integrations
2-Factor Authentication
Advanced Patient Access
Electronic Medical Billing
Electronic Remittance Advice
Advanced Billing Center
Mobile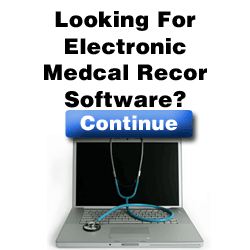 Ok I would be silly to even write something here, they OWN mobile.  The only thing that I think I will point out here is that they offer iPad printing features so you may want to check out your existing printers to see if they support.
Pricing (per provider)
This is a true Freemium model meaning basic model is free and you unlock more and more features as you go to premium.
Free through $399 per year
Patient Interaction
The patient interaction is very nice as it provides a free patient App you can download from the App store.  A key feature here is the ability to expedite patient registration which is a huge efficiency boost.   The form fill out on the App is easy and far better than boring paper intake forms…oh and no paper cuts.
Other Key Features
eRx – Yup they got it
Paperless medical billing….check that as well
Oh and I would be remiss if I did not mention text to speech capability…not Siri yet but nice
Adam's Recommendation:  This is a novel, innovative, very cool EMR platform that just makes sense.  It is simple because EMR's should be simple.  I am sold.  Just make sure you adopt an Apple device strategy since it is an Apple IOS App.
Here is a cool video:

Post your DRCHRONO review here:
Summary
Reviewer
Review Date
Reviewed Item
Dr. Chrono Electronic Medical Record Review
Author Rating